So here I have collated relevant data sources from public organisations which publish real-time tracking of virus strains that influence health policy.
Courtesy of Emma Hodcroft -in Switzerland is the genomically sampled sequences across the world tracking SARS-COV2 evolution. EIther click the picture or click here for covariants.org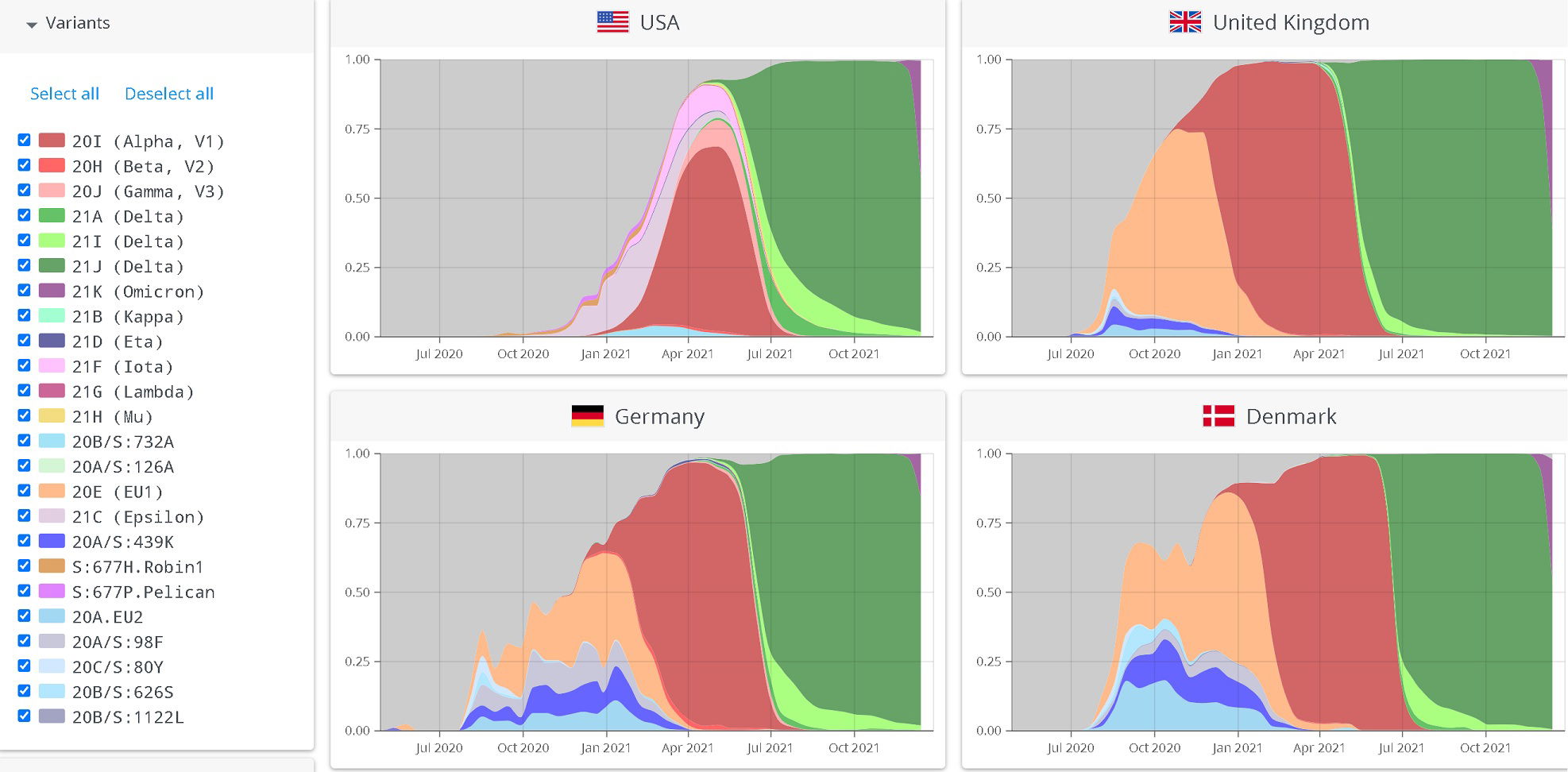 Below is Outbreak.info which aggregates data across scientific sources, providing tools to meet three major aims:
Track trends in COVID-19 cases and deaths
Track daily developments in SARS-CoV-2 variants
Integrate publications, preprints, clinical trials, datasets, protocols, and other resources into one searchable library of COVID-19 research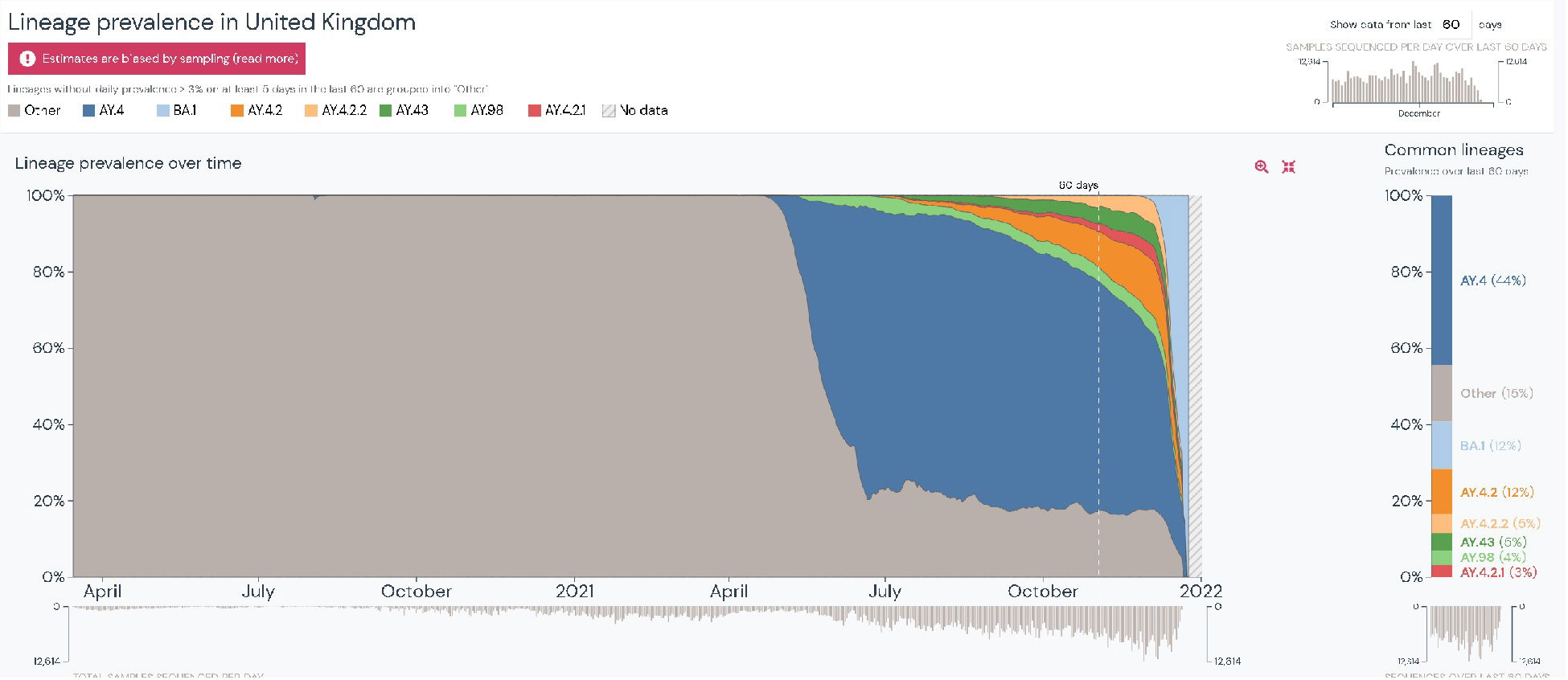 The remarkable capacity of some viruses to adapt to new hosts and environments is highly dependent on their ability to generate diversity by spontaneous mutation which varies and is dependant on various mechanisms.
It is thought that RNA viruses mutate faster than DNA viruses, single-stranded viruses mutate faster than double-strand virus, and genome size appears to correlate negatively with mutation rate.
Modulation of mutation rates factors including polymerase enzyme fidelity, sequence context, template secondary structure, cellular microenvironment, replication mechanisms, proofreading, and access to post-replicative repair.
Additional mutations can be introd uced by some virus-encoded diversity-generating elements, as well as by host-encoded cytidine/adenine deaminases.
Current knowledge of viral mutation rates indicates that viral genetic diversity is determined by multiple virus- and host-dependent processes, and that viral mutation rates can evolve in response to specific selective pressures.
(Source - Glasgow University)
1. B.1351 - Beta
2. P1 - Gamma
3. B.1617.2 - Delta 
4. B.1.1.529 - Omicron
5. B.1.1.5.7 - Alpha
Omicron variant of SARS-CoV-2 harbors a unique insertion mutation of putative viral or human genomic origin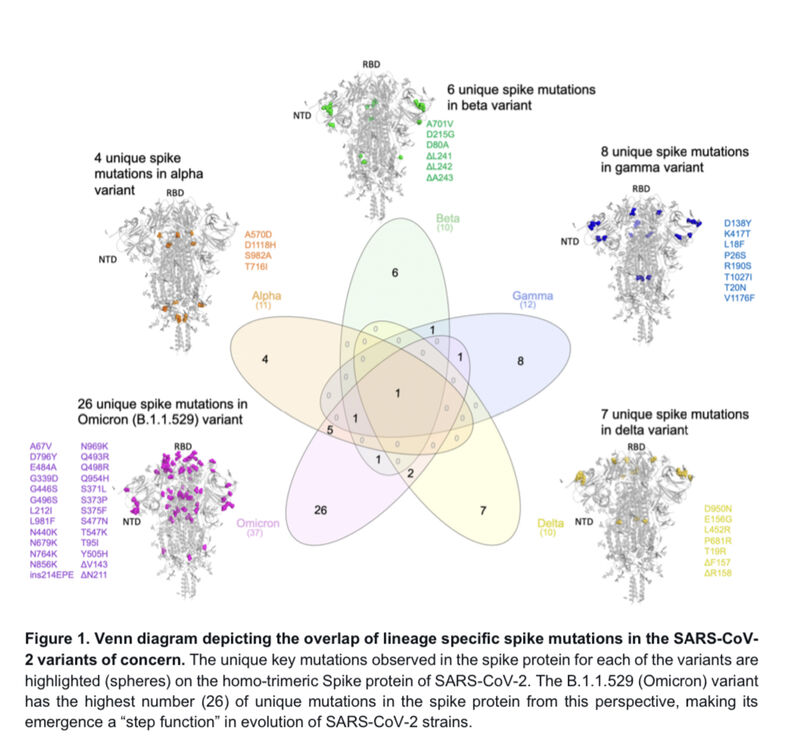 Further Information
1. Visualising Peptide / ACE2 in COVID Variants
Sanches PRS, Charlie-Silva I, Braz HLB, et al.
Recent advances in SARS-CoV-2 Spike protein and RBD mutations comparison between new variants Alpha (B.1.1.7, United Kingdom), Beta (B.1.351, South Africa), Gamma (P.1, Brazil) and Delta (B.1.617.2, India).
J Virus Erad. 2021;7(3):100054. doi:10.1016/j.jve.2021.100054
Explore up-to-date genome data and monitor variants of SARS-CoV-2 CoV-Spectrum is a fully interactive platform aiming to help scientists investigate known variants
5th October update for B 1.617.2.4
Cov-Spectrum Analysis of European SARS-COV2 Strains
3D Representations of Sars-Cov2 - NIH 3D Prints
Mutation Mapping in COVID and Variants of Concern
Current analysis of amino acid mutations in variations in COVID.
(Source - Glasgow University)