Monkeypox virus is a member of the Orthopoxvirus genus in the Poxviridae family.
Monkeypox virus (MPV or MPXV), is a double-stranded DNA virus unlike SARS-COV2
So far, on Thursday 19th May 2022
Spain confirmed 7 cases of monkeypox in Madrid and are investigating another 22.
Italy confirmed its first case; and Canadian public health officials announced they are investigating 17 suspected cases.
In the UK 9 have been confirmed so far.
Monkeypox virus causes monkeypox, an emerging zoonotic disease recognized as the most important orthopoxvirus infection in humans in the smallpox post-eradication era.
Many animal species, including rodents and monkeys, can transmit the virus. However, the animal host has not been identified yet.
The clinical presentation of monkeypox is very similar to the presentation of smallpox, i.e. the febrile prodrome is followed by a skin eruption period. Lymphadenopathy is a typical sign of monkeypox with skin lesions, muscle ache and pain.
There is an incubation period of some seven to 14 days, the CDC confirm. Initial symptoms are typically flu-like, such as fever, chills, exhaustion, headache and muscle weakness, followed by swelling in the lymph nodes, which help the body fight infection and disease." A feature that distinguishes infection with monkeypox from that of smallpox is the development of swollen lymph nodes," .Next comes a widespread rash on the face and body, including inside the mouth and on the palms of the hands and soles of the feet.The painful, raised poxes are pearly and fluid-filled, often surrounded by red circles similar to chickenpox.
The lesions finally scab over and resolve over a period of two to three weeks, the CDC said.
The case fatality of monkeypox depends on the virus clade, and it falls between 1% and 11% similar to other poxviruses like chickenpox (Varizella Zoster) or smallpox.
Monkeypox was reported in 11 countries of Central and West Africa with recent outbreaks in EU, UK and US. .
The frequency and geographical spread of human monkeypox cases have increased in recent years, with little understanding of the disease's emergence, epidemiology, and ecology.
Monkeypox can be diagnosed by polymerase chain reaction performed on lesion specimens. Serological tests and antigen detection do not provide a definitive diagnosis.
Modified vaccinia Ankara vaccine was recently approved in the USA for monkeypox prevention in adults at high risk of infection.
There is currently no specific treatment for monkeypox infection although CDC has recommendations of these:
Smallpox vaccine, cidofovir (a CMV antiviral), ST-246 (bioavailable anti-pox compound), and vaccinia immune globulin (VIG)
Details available on this recent article by Sklenovska
Further details on pathogenesis and immunology of monkeypox
Friday 20th May 2022
A swab sample was obtained in Portugal which had already registered more than 20 laboratory confirmed cases of monkeypox and several samples were already subjected to laboratory procedures towards the determination of the virus genome sequence.
Recent report shows the draft genome sequence soon to be available on nextstrain.org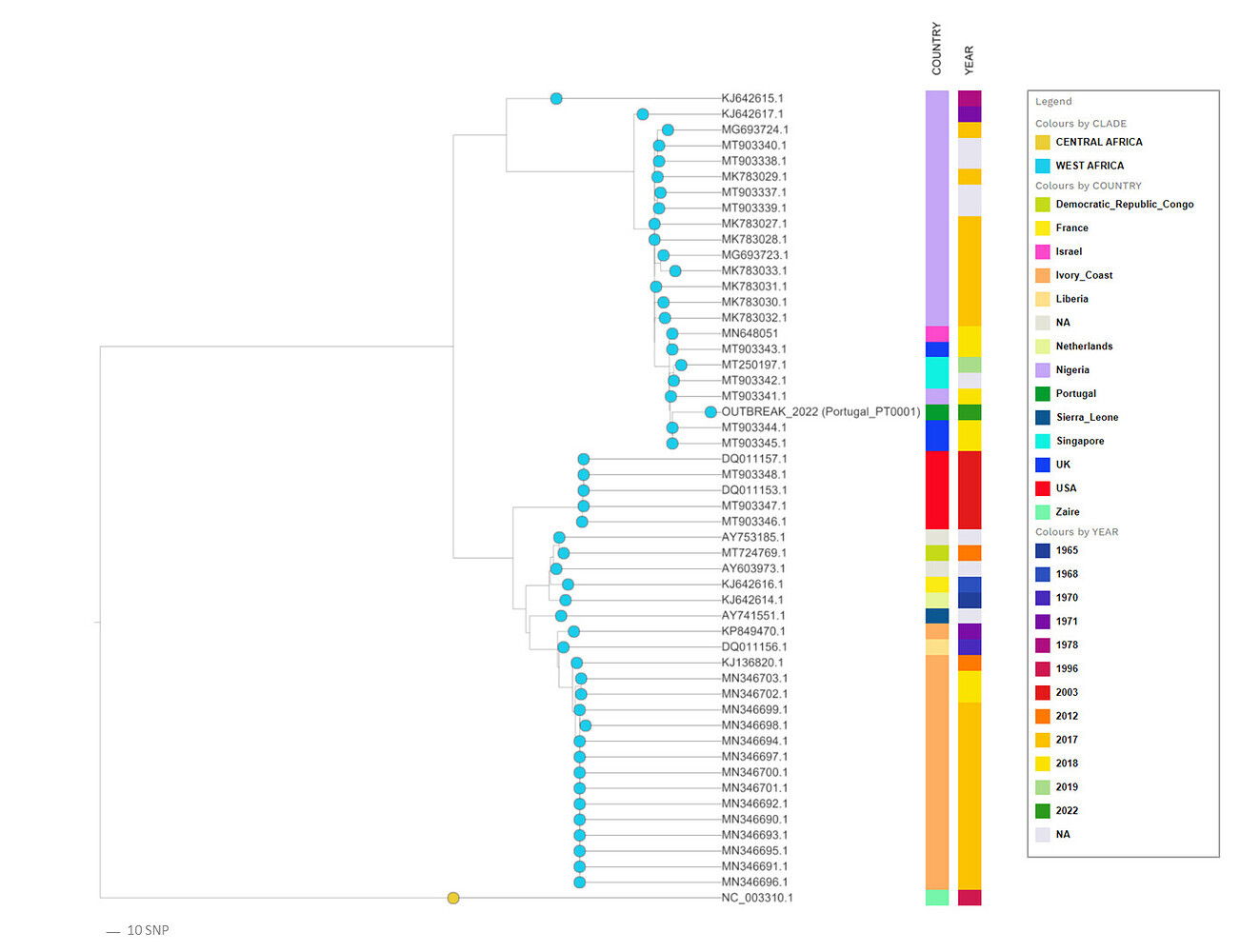 This preliminary data and analysis will be soon updated upon the release of new genome data, which will be important to elucidate the origin and international spread of the currently circulating virus.
Amazing work in Portgual - Click here for the article.
Joana Isidro1, Vítor Borges1, Miguel Pinto1, Rita Ferreira1, Daniel Sobral1, Alexandra Nunes1, João Dourado Santos1, Maria José Borrego3, Sofia Núncio2, Ana Pelerito2, Rita Cordeiro2, João Paulo Gomes1,